Daily Archives:
March 2, 2018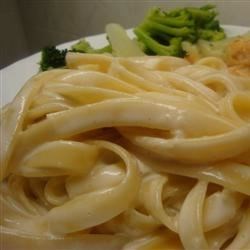 To Die For Fettuccini Alfredo
"A wonderfully rich and filling alfredo, not for those watching their waistlines."
Ingredients
1 pound dry fettuccine pasta
3 pints heavy whipping cream
1 cup grated Romano cheese
4 tablespoons butter
1 pinch ground nutmeg
ground black pepper to taste
Directions
Cook pasta according to directions on package. Drain and toss with one tablespoon of butter, cover and set aside.
In a medium sauce pan over low heat, heat cream and 3 tablespoons of butter, stirring constantly. When cream begins to simmer mix in a small amounts of Romano cheese, stirring constantly, until all cheese is added and sauce has reduced. It should be thick and easily cover the back of a spoon.
Stir in nutmeg and black pepper. Toss with warm fettuccini and serve.
ALL RIGHTS RESERVED © 2018 Allrecipes.com
Printed From Allrecipes.com 3/3/2018
MARCH IS MULTIPLE SYSTEM AWARE MONTH
GO TO MSA.ORG   LEARN, GIVE, HELP FIND A CURE
DEDICATED TO MY BROTHER WHO DIED FROM THIS TERRIBLE ILLNESS FOUR YEARS AGO THIS MONTH.
SUPPOSE, IMAGINE, PRETEND, TELL, DESPAIR
Suppose one day
Things don't feel right
Tremors or falls
But able to function.
Imagine going to the doctor
Expecting to hear familiar words
When nothing makes sense
You are condemned to death.
Pretend nothing is happening
Keep all to yourself
But daily chores
Are becoming a burden.
Tell all who love you
No one understands
They see you acting weird
They fade from your day.
Despair  surrounds you
You feel like giving up
You pray for a cure
You scream to the world.
WRITTEN BY,
TERRY SHEPHERD
This slideshow requires JavaScript.