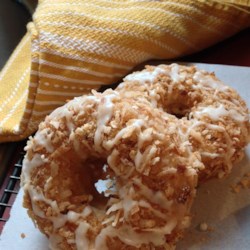 "This recipe is very quick and easy to make. I have a donut pan, which is like a muffin pan, but has donut shaped holes rather than muffin shaped holes. These donuts are baked not fried, so they don't have so many calories. I mix up either a powdered sugar glaze or a chocolate icing to top these with. They can also be rolled in cinnamon and white sugar, but it doesn't stick very well. My husband likes them just plain. For a chocolate glaze, simply stir 1/2 cup melted chocolate chips into the glaze mixture."
Ingredients
2 cups all-purpose flour
3/4 cup white sugar
2 teaspoons baking powder
1/4 teaspoon ground nutmeg
1/4 teaspoon ground cinnamon
1 teaspoon salt
3/4 cup milk
2 eggs, beaten
1 teaspoon vanilla extract
1 tablespoon shortening
1 cup confectioners' sugar
2 tablespoons hot water
1/2 teaspoon almond extract
Directions
Preheat oven to 325 degrees F (165 degrees C). Lightly grease a doughnut pan.
In a large bowl, mix flour, sugar, baking powder, nutmeg, cinnamon and salt. Stir in milk, eggs, vanilla and shortening. Beat together until well blended.
Fill each doughnut cup approximately 3/4 full. Bake 8 to 10 minutes in the preheated oven, until doughnuts spring back when touched. Allow to cool slightly before removing from pan.
To make glaze, blend confectioners' sugar, hot water and almond extract in a small bowl. Dip doughnuts in the glaze when serving.
ALL RIGHTS RESERVED © 2018 Allrecipes.com
Printed From Allrecipes.com 3/13/2018