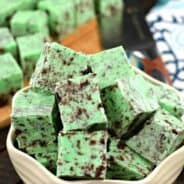 Mint Oreo Fudge
yield: 64 PIECES
prep time: 20 MINUTES
cook time: 15 MINUTES
total time: 2 HOUR
Easy Mint Chocolate Oreo Fudge recipe is the perfect addition to your dessert menu! Perfect for holiday, birthdays, or weeknight celebrations, you'll love this delicious fudge treat!
INGREDIENTS:
1 bag (11 oz) Ghirardelli white chocolate morsels
1 jar (7 oz) marshmallow cream (Fluff)
1 (or 1 1/2) tsp peppermint extract
2 drops green gel food coloring
2 cups granulated sugar
3/4 cup heavy whipping cream
3/4 cup unsalted butter
pinch of kosher salt
20 Oreo cookies, crushed
DIRECTIONS:
Line an 8-inch (or 9-inch) square baking dish with parchment paper or foil. Set aside.
In a large mixing bowl, attached to an electric mixer, add white chocolate chips, marshmallow cream, peppermint, and food coloring. Set aside.
In a medium saucepan, melt butter with sugar, heavy cream, butter and salt. Cook and stir over medium high heat until mixture begins to boil.
Once boiling, set timer for 5 minutes, and continue stirring while mixture boils.
Remove from heat and pour over ingredients in mixing bowl. Turn mixer on low and blend for about 1-2 minutes, until fudge is creamy and white chocolate is completely melted. Fold in crushed Oreo cookies.
Immediately pour into prepared baking dish. Allow to set at room temperature for 2 hours. Cut into bite size pieces and store in airtight container for up to two weeks at room temperature. ENJOY!