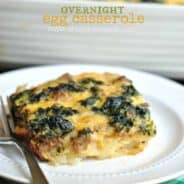 Egg Casserole
yield: SERVES 8
prep time: 20 MINUTES
cook time: 2 HOURS
Delicious, cheesy Egg Casserole, can be made the night before. Put in the oven in the morning and enjoy this hearty breakfast!
INGREDIENTS:
8 frozen toaster hash browns
2 cup shredded cheddar cheese
1 1/2 lb cooked, diced meat (ham, bacon, sausage)
6 eggs, beaten
2 1/4 cup milk
1 can cream of celery soup
1 tsp yellow mustard
1 tsp kosher salt
1/4 tsp black pepper
8 drops Tabasco sauce
may substitute in place of meat: spinach, tomato, mushroom, onion, green peppers, broccoli
DIRECTIONS:
Place frozen hash browns in bottom of 13×9 casserole dish. Cover with meat (or veggies) and cheese. Beat milk and eggs, add soup and spices.
Pour over meat/cheese and top with additional cheese if desired.
Cover and refrigerate overnight (or if making for dinner, refrigerate during the day to be cooked later).
Bake covered 1 hour at 325 degrees, uncover and bake an additional 45-60 minutes.