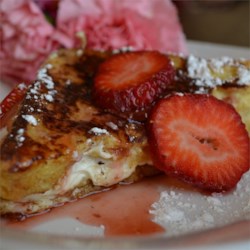 Strawberry Cheesecake French Toast
Recipe By:
Pamela Batovsky
"French toast topped with glazed strawberries and stuffed with cheesecake. Soooo good and original. Perfect to impress at a brunch. Serve with mimosas for a fancier brunch-type setting, or just make it for a special Saturday morning breakfast for your family like I do. =)"
Ingredients
1 cup mashed fresh strawberries
1/2 cup white sugar
2 tablespoons cornstarch
1 cup water
1 cup milk
6 eggs
1 (8 ounce) package cream cheese, softened
1 teaspoon vanilla extract
3/4 cup white sugar
8 slices bread, cut in half diagonally
1 teaspoon butter
8 sliced fresh strawberries
1 tablespoon confectioners' sugar for dusting
1 cup whipped cream
Directions
Preheat an oven to 100 degrees F ( 40 degrees C).
Heat mashed strawberries and 1/2 cup white sugar in a saucepan over medium heat.
Mix cornstarch and water together in a bowl, then stir into the strawberries.
Cook and stir until thickened, about 5 minutes. Reduce heat to low and simmer while preparing remaining ingredients, stirring occasionally.
Whisk together the milk and eggs in a bowl; set aside.
Mash cream cheese, vanilla extract, and 3/4 cup white sugar in a bowl until smooth.
Spread the cream cheese mixture over a triangle-shaped piece of bread, and top with another piece. Repeat with remaining bread and cream cheese mixture to make 8 triangle-shaped sandwiches.
Heat butter in a large skillet over medium heat.
Dip the sandwiches into the egg mixture, 2 or 3 at a time, and place in the skillet.
Cook until golden brown on both sides, about 3 minutes per side.
Transfer pan-fried sandwiches to a baking sheet and place in the preheated oven to keep warm while cooking remaining sandwiches.
To serve, top French toast with warm strawberry glaze and sliced fresh strawberries and sprinkle with confectioners' sugar. Serve with a dollop of whipped cream.
ALL RIGHTS RESERVED © 2018 Allrecipes.com
Printed From Allrecipes.com 5/11/2018