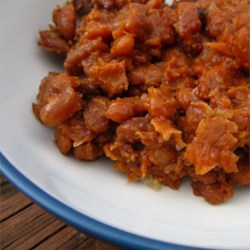 "These beans taste like Boston Baked Beans. Yummy!"
Ingredients
1 pound dry great Northern beans
8 cups water
4 ounces diced salt pork
1 cup chopped onion
1/2 cup molasses
1/3 cup packed brown sugar
1 teaspoon dry mustard
1/8 teaspoon ground black pepper
Directions
The night before, combine the Great Northern Beans and water in a large saucepan. Bring to a boil, and cook for 1 1/2 hours. Pour beans and their liquid into a bowl, cover and refrigerate overnight.
In the morning, drain off liquid, reserving 1 cup. Pour beans and the reserved liquid into the crock of a slow cooker. Stir in the salt pork, onion, molasses, brown sugar, mustard and pepper. Cover, and cook on Low for 12 to 14 hours. Stir before serving.
ALL RIGHTS RESERVED © 2018 Allrecipes.com
Printed From Allrecipes.com 5/14/2018
Hmm. It looks like these ingredients aren't on sale today.