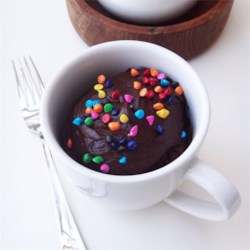 Fudgy Nutella(R) Mug Cake
"I created this recipe for a somewhat healthier version of an easy Nutella(R) mug cake so I wouldn't use so much Nutella(R). Let it rest for 2 to 4 minutes after cooking, but enjoy it warm."
Ingredients
2 tablespoons all-purpose flour
2 tablespoons coconut flour
1 tablespoon cocoa powder
1/4 teaspoon baking powder
3 1/2 tablespoons almond milk, divided
1/2 teaspoon vanilla extract
3 tablespoons chocolate-hazelnut spread (such as Nutella(R))
Directions
Stir all-purpose flour, coconut flour, cocoa powder and baking powder together in a small bowl; add 3 tablespoons almond milk, vanilla extract, Nutella(R) and 1/2 tablespoon milk, respectively, stirring between each addition until you finally have a smooth batter. Transfer batter to mug.
Cook in microwave for 1 minute. Allow to rest for about 5 seconds and continue cooking until a toothpick inserted in the center comes out clean, about 30 seconds more.
Let cake cool for 2 to 4 minutes.
ALL RIGHTS RESERVED © 2018 Allrecipes.com
Printed From Allrecipes.com 5/21/2018