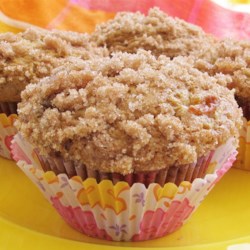 Recipe By:
Karla Sonnenberg
"Great way to use summer rhubarb."
Ingredients
Bread:
1 1/2 cups brown sugar
2/3 cup vegetable oil
1 egg
1 cup buttermilk
2 1/2 cups all-purpose flour
1 teaspoon baking soda
1/2 teaspoon salt
1 1/2 cups diced rhubarb
Topping:
1/2 cup white sugar
1 tablespoon butter
1 teaspoon ground cinnamon
Directions
Preheat oven to 350 degrees F (175 degrees C). Grease a 5×9-inch loaf pan.
Mix brown sugar, vegetable oil, egg, buttermilk, flour, baking soda, salt, and rhubarb, in exact order and stirring after each addition, together in a bowl until batter is just combined; pour into the prepared pan.
Combine white sugar, butter, and cinnamon together in a bowl until crumbly; lightly press onto batter.
Bake in the preheated oven until a toothpick inserted in the center of the bread comes out clean, about 1 hour.
ALL RIGHTS RESERVED © 2018 Allrecipes.com
Printed From Allrecipes.com 5/27/2018