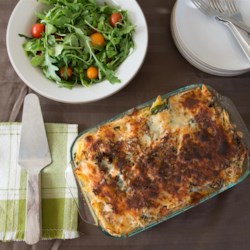 "This easy to prepare version of the classic tuna casserole contains leafy greens, bell pepper, and penne noodles. You can easily substitute the vegetables with what you have in the refrigerator."
Ingredients
8 ounces penne pasta
1 tablespoon olive oil
1 large onion, chopped
2 stalks celery, chopped
1 red bell pepper, chopped
2 cloves garlic, crushed
salt, to taste
ground black pepper, to taste
1/4 cup sherry
1/2 pound kale, stems removed and leaves coarsely chopped
1 (14.1 ounce) can potato leek soup
1 cup vegetable broth
1 (5 ounce) can tuna packed in water, drained
1 cup shredded mozzarella cheese
1/3 cup herb seasoned bread crumbs
Directions
Preheat oven to 375 degrees F (190 degrees C). Lightly grease a 2 quart casserole dish.
Bring a large pot of salted water to a boil, add penne pasta, and cook 10 minutes or until al dente; drain.
Heat the oil in a large wok or skillet over medium-high heat. Mix in onion and cook 5 minutes. Stir in the celery and bell pepper and continue cooking for another five minutes. Mix in the garlic, salt and pepper and continue cooking 3 minutes. Pour in sherry; stir in the kale and cover. Reduce heat to medium and cook for 5 minutes, stirring occasionally, until the kale has wilted.
Transfer wok mixture to a large bowl. Mix in the cooked pasta, soup, vegetable broth, and tuna. Pour mixture into the prepared casserole dish. Top with a layer of mozzarella followed by a layer of bread crumbs. Bake uncovered in the preheated oven for 25 minutes.
ALL RIGHTS RESERVED © 2018 Allrecipes.com
Printed From Allrecipes.com 6/6/2018