Butterfinger Fudge Cookie Bars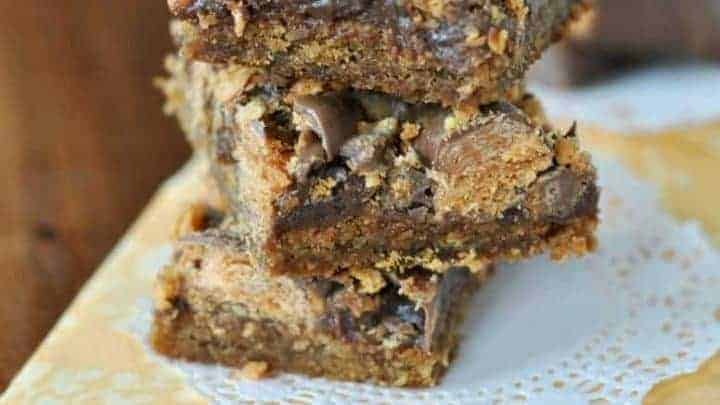 Peanut Butter Cookie Bars topped with a soft chocolate fudge layer and crushed Butterfingers. You're going to want to make these…trust me!
TOTAL TIME
1 hours 33 minutes
Ingredients
YIELD: 4-5 DOZEN
For the Cookie Bar:
3/4 cup unsalted butter, softened
1 1/4 cups light brown sugar, packed
1/2 cup creamy peanut butter
1 egg
2 Tbsp milk
1 3/4 cups all-purpose flour
1/2 tsp kosher salt
1 tsp baking soda
For the Topping:
12oz milk chocolate morsels
14oz can sweetened condensed milk
2 bags (8oz each) Butterfinger Bites, crushed
Instructions
For the cookie bars, beat butter and brown sugar in mixing bowl until combined. Add peanut butter. Beat in egg and milk. Beat in the flour, salt and baking soda. Press dough into a 15x10x1 baking sheet lined with parchment paper. Dough will be sticky, I dipped my fingers in flour before pressing. Bake in a 375 degree oven for 15-18 minutes. Remove from oven.
On stovetop in small saucepan, heat sweetened condensed milk until warm. Whisk in the milk chocolate and continue stirring until smooth.
Pour fudge over cookie bars. Top with crushed Butterfingers, pressing them into the fudge lightly. Allow to cool completely and cut into small bars.
Notes
**If desired, substitute refrigerated peanut butter cookie dough for the homemade version.
Recommended Products
Pyrex Prepware 3-Piece Glass Mixing Bowl Set

OXO Good Grips Non-Stick Pro Jelly Roll 10 x 15 Inch

Reynolds Kitchens Parchment Paper (SmartGrid, Non-Stick, 50 Square Foot Roll, 3 Count)