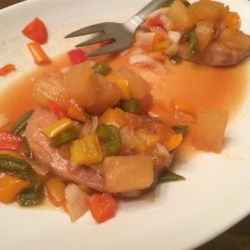 Easy Slow Cooker Sweet and Sour Pork Chops
Recipe By:
Bonnie Carter Dalager
"Simple sweet and sour topping for slow cooker pork chops."
Ingredients
4 pork chops
1/4 cup brown sugar
1/4 cup ketchup
2 tablespoons minced onion
1 tablespoon lemon juice
Directions
Heat a large skillet over high heat. Sear the pork chops until browned, 1 to 2 minutes per side. Transfer the pork chops to a slow cooker. Mix the brown sugar, ketchup, onion, and lemon juice in a bowl; spoon over the pork chops.
Cook on Low until the pork chops are very tender, 4 to 6 hours.
ALL RIGHTS RESERVED © 2018 Allrecipes.com
Printed From Allrecipes.com 6/18/2018