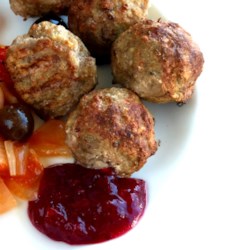 Swedish Meatballs (From a Swede!)
"This is my mom's Swedish meatball recipe. This isn't the kind a lot of people are used to in a creamy white sauce. She served them every Christmas Eve in a chafing dish as part of the 'Smörgåsbord.' My mom used to have a vegetable sour cream and a lingonberry sauce on the table for those that might want to dip these in something."
Ingredients
1 tablespoon butter
1 tablespoon minced onion
1/3 cup fine dry bread crumbs
1/2 cup water
1/2 cup half-and-half
3/4 pound ground beef
1/4 pound ground pork
2 teaspoons salt
1/4 teaspoon ground white pepper
1/3 teaspoon white sugar
3 tablespoons butter
Directions
Melt 1 tablespoon butter in a frying pan over low heat; cook and stir onion in melted butter until lightly browned, 5 to 8 minutes.
Mix bread crumbs, water, and half-and-half in a large bowl; let stand for about 2 minutes. Stir cooked onion, ground beef, ground pork, salt, white pepper, and sugar into bread crumb mixture until thoroughly mixed. Shape mixture into about 48 very small meatballs.
Melt 3 tablespoons butter in a skillet; add meatballs. Brown slowly, allowing about 25 minutes, until meatballs are fully cooked in the middle and no longer pink. Shake pan occasionally to cook evenly.
ALL RIGHTS RESERVED © 2018 Allrecipes.com
Printed From Allrecipes.com 7/6/2018

Walmart 
2501 Walton Blvd 
WARSAW, IN 46582 
Sponsored
C&H Pure Cane Granulated Sugar 4 Lb
$2.23 for 1 item – expires in 1 day