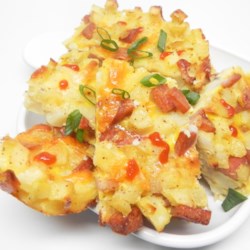 Make-Ahead Breakfast Bars
"I like to make a batch of these and then cut them and wrap single servings in foil to have handy in the freezer for the week. Much cheaper than the freezer breakfasts from the store and you can basically add/substitute whatever ingredients you want or have handy."
Ingredients
cooking spray
3 cups frozen Southern-style hash browns
4 eggs, lightly beaten
1 cup cubed fully cooked ham
1 cup shredded Cheddar-Monterey Jack cheese blend
1/2 teaspoon onion powder
1/4 teaspoon salt
1/8 teaspoon ground black pepper
Directions
Preheat the oven to 350 degrees F (175 degrees C). Grease an 8×11-inch casserole dish with cooking spray.
Mix hash browns, eggs, ham, Cheddar-Jack cheese, onion powder, salt, and pepper together. Pour mixture into the prepared dish. Shake dish gently from side to side to level out ingredients.
Bake, uncovered, in the preheated oven until top starts to brown, about 40 minutes. Cool before cutting into bars.
ALL RIGHTS RESERVED © 2018 Allrecipes.com
Printed From Allrecipes.com 7/31/2018