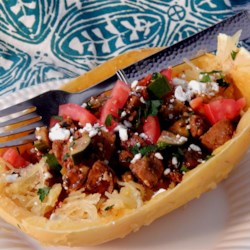 Spaghetti Squash Mediterranean-Style
Recipe By:
Jenny's Kitchen
"A fun way to make spaghetti squash the main event in this unique and filling dish."
Ingredients
cooking spray
1 spaghetti squash, halved lengthwise and seeded
2 tablespoons olive oil, divided
3 (4 ounce) Italian sausage links, casings removed
2 spring onions, finely chopped
3 cloves garlic, minced
1 zucchini, diced
1 red bell pepper, seeded and diced
1 tablespoon Italian seasoning
4 ounces crumbled feta cheese, or more to taste
sea salt to taste
1 pinch lemon pepper, or to taste
1 small tomato, finely chopped
1 tablespoon chopped fresh parsley, or as desired (optional)
Directions
Preheat oven to 350 degrees F (175 degrees C). Coat large baking dish with cooking spray.
Place spaghetti squash cut-side down in prepared baking dish.
Bake in preheated oven until spaghetti squash is tender when pierced with a fork, about 45 minutes. Turn squash over and bake for another 5 minutes. Remove spaghetti squash from oven. Scrape the strands from the skin and place into a large bowl.
Heat 1 tablespoon of olive oil in a large skillet over medium heat. Add Italian sausage and cook, stirring occasionally, until sausage is brown and crumbly, 5 to 8 minutes. Remove sausage.
Return skillet to heat; add 1 tablespoon olive oil, spring onions, and garlic, cook and stir until onions are softened, about 5 minutes. Add zucchini, red peppers, and Italian seasoning and continue to cook and stir until the vegetables are soft, about 5 minutes.
Stir spaghetti squash and feta cheese into vegetable mixture; cook and stir until cheese melts, about 3 minutes. Stir sausage into vegetable mixture; season with salt and lemon pepper. Sprinkle tomato and parsley on top to serve.
ALL RIGHTS RESERVED © 2018 Allrecipes.com
Printed From Allrecipes.com 5/31/2018