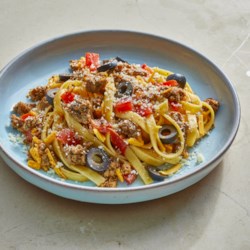 Karen's Taco Pasta
"I made this with taco leftovers and my family loved it. I think it works best with fettuccine, but you can use your favorite pasta."
Ingredients
16 ounces dry fettuccine pasta
1 pound lean ground beef
1 (1.25 ounce) package taco seasoning mix
4 ounces shredded Cheddar cheese
3 tomatoes, diced
salt to taste
ground black pepper to taste
1 pinch garlic powder
3/4 (6 ounce) can black olives, drained and chopped
2 tablespoons grated Parmesan cheese
Directions
Cook pasta in a large pot of boiling salted water until al dente. Drain.
Meanwhile, in a large skillet cook ground beef. Drain excess grease. Add taco seasoning packet as directed on package.
Transfer pasta to a large bowl. Toss with cooked meat mixture, prepared cheese, and tomatoes. If desired, add sliced olives. Season to taste with salt, pepper, and garlic powder. Sprinkle with grated Parmesan cheese. Serve immediately.
ALL RIGHTS RESERVED © 2018 Allrecipes.com
Printed From Allrecipes.com 6/26/2018