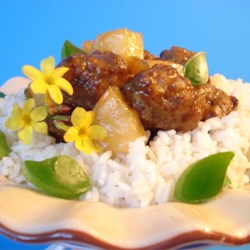 "These sweet and sour meatballs are always a hit at parties. My mom sometimes takes shortcuts and uses pre-made meatballs from a bag, which, after spending a few hours in the slow cooker, taste fine. I like these best when they are made completely from scratch! Ground turkey works too, but doesn't hold its shape as well. To turn into a meal, heat rice to serve with the dish. The serving size refers to this dish as a main meal, but when served as an hors d'oeuvre, easily can feed 10 to 13 people. Sometimes I do not add the cornstarch into the sauce, and just allow it to boil for a bit longer, but the cornstarch really does yield the best result."
Ingredients
1 1/2 pounds ground beef
2/3 cup plain breadcrumbs
1/3 cup minced onion
1/4 cup milk
1 egg
1 1/2 teaspoons salt
2 tablespoons cornstarch
1/2 cup brown sugar
1 (15 ounce) can pineapple chunks, juice reserved
1/3 cup vinegar
1/3 cup chopped green bell pepper
Directions
Preheat an oven to 350 degrees F (175 degrees C).
Thoroughly mix the ground beef, bread crumbs, onion, milk, egg, and salt together in a bowl. Roll the mixture into balls and arrange onto a baking sheet.
Bake in the preheated oven until the meatballs are browned on the bottom, about 25 minutes. Transfer to a slow cooker.
Stir the cornstarch and brown sugar together in the bottom of a saucepan and place over low heat. Add the reserved pineapple juice and vinegar; stir until smooth. Bring the mixture to a boil for 1 full minute before removing from heat; pour over the meatballs in the slow cooker.
Add the pineapple chunks and green bell pepper to the slow cooker.
Cook the mixture in the slow cooker on Low until the flavors are thoroughly combined, 3 to 4 hours.
ALL RIGHTS RESERVED © 2018 Allrecipes.com
Printed From Allrecipes.com 8/6/2018