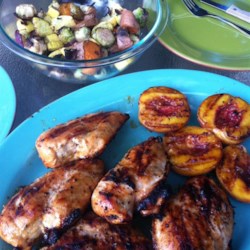 Grilled Chicken with Peach Sauce
"My neighbor made this dish at a barbecue and I had to have the recipe. It is so easy and you will be surprised what a wonderful flavor the peaches give to the chicken!"
Ingredients
8 skinless, boneless chicken breast halves
1 pinch salt and ground black pepper to taste
2 cups peach preserves
3 tablespoons extra-virgin olive oil
2 tablespoons soy sauce
1 tablespoon finely chopped garlic
1 tablespoon Dijon mustard
4 ripe peaches, halved and pitted
Directions
Preheat grill for medium heat and lightly oil the grate. Season chicken breast halves with salt and black pepper.
Stir peach preserves, olive oil, soy sauce, garlic, and mustard in a bowl; season with salt and black pepper. Reserve about 1/2 cup peach sauce.
Place chicken on preheated grill; cook until golden brown, 6 to 7 minutes, then flip chicken. Continue cooking for 5 to 6 minutes. Brush both sides of the chicken with peach sauce. Cook until no longer pink in the center and the juices run clear, 4 to 5 more minutes. An instant-read thermometer inserted into the center should read at least 165 degrees F (74 degrees C).
Arrange peach halves cut side down on the grill. Grill for 2 minutes, flip, and brush with reserved 1/2 cup peach sauce. Continue to grill until peaches are tender, 3 to 4 minutes more.
ALL RIGHTS RESERVED © 2018 Allrecipes.com
Printed From Allrecipes.com 8/7/2018