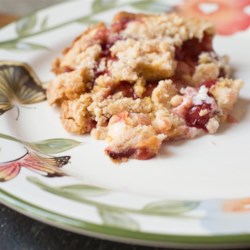 Cherry Cream Cheese Dump Cake
"I came up with this recipe to combine a couple of my husband's favorites. It's easy and very tasty. The family loves it! It is great with vanilla ice cream!"
Ingredients
cooking spray (such as Pam(R))
1 (8 ounce) package refrigerated crescent rolls (such as Pillsbury(R) Grands! Big and Flaky)
2 (8 ounce) packages cream cheese, softened
1 cup white sugar
1 teaspoon vanilla extract
3 tablespoons brown sugar
2 teaspoons ground cinnamon, divided
1 (12 ounce) can cherry pie filling
1 (18.5 ounce) package yellow cake mix (such as Duncan Hines(R))
3/4 cup unsalted butter, cut into 1/4-inch pieces
Directions
Preheat oven to 325 degrees F (165 degrees C). Spray a 9×13-inch glass baking dish with cooking spray.
Unroll crescent rolls into the prepared dish, pinching the seams together.
Beat cream cheese, white sugar, and vanilla extract together in a bowl; spread over crescent roll dough. Sprinkle brown sugar and 1 teaspoon cinnamon over cream cheese mixture layer.
Pour cherry pie filling over brown sugar layer. Sprinkle yellow cake mix over cherry pie filling. Arrange butter slices over cake mix and top with remaining 1 teaspoon cinnamon. Wrap a piece of aluminum foil under baking dish to help prevent rolls from burning.
Bake in the preheated oven until cooked through, about 1 hour. Cool for 10 to 15 minutes before serving.
ALL RIGHTS RESERVED © 2018 Allrecipes.com
Printed From Allrecipes.com 8/13/2018